We changed up our slow cooker routine this week and busted it out on Tuesday, instead of Wednesday. After having some not so good tasting pulled pork over the weekend, I made it my mission to hunt down the perfect recipe (preferably one that comes close to Dinosaur BBQ's). I finally found what I was looking for here:
http://thedomesticman.com/2011/04/22/pulled-pork/
Pulled Pork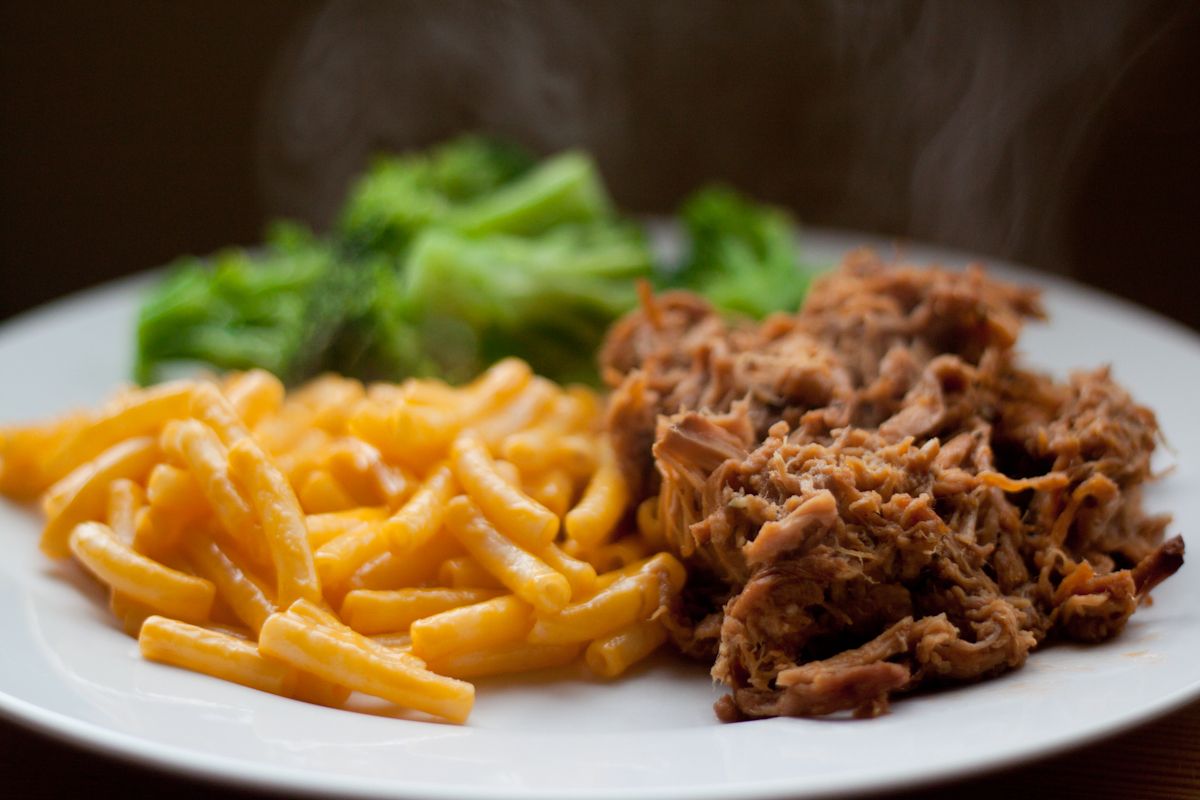 (photo from the Domestic Man's website)
Ingredients:
5 lb pork butt or shoulder
1 tbsp sea salt (original recipe calls for only 1 tsp, sorry man, but I'm not afraid of salt!)
2 tsp cumin (our addition)*
1 tsp onion powder (our addition)*
1 tsp garlic powder (our addition)*
1 tbsp chili powder (our addition)*
2 tsp chipotle powder (our addition)*
pepper, to taste (our addition)*
1 tsp liquid smoke
Frank's Red Hot Sauce, to taste (our addition)*
1 1/2 cups BBQ sauce (we used Patti Labelle's Smoked Agave BBQ sauce)
Method:
Place the pork butt in a crock pot, and pour the seasonings, hot sauce and liquid smoke on top. Cook on low for 10 hours, flipping halfway through.
Drain out half the liquid** (you can reserve both the juice and the fat for other recipes) and remove any bones or skin. Pull the pork apart with two forks. It doesn't have to be perfect. Add the BBQ sauce and mix it together, returning it to the crock pot on low for another hour. If you want it a little spicier, add a couple drops of hot sauce or tabasco when you add the BBQ sauce.
The pork should be slightly damp and falling apart. If it dries out, add back some of the liquid you poured out. This dish also freezes well, so you can easily store it in batches.
Serve on buns, with mashed potatoes or with whatever you'd like. We used roasted sweet potatoes and some of my homemade coleslaw.
*Note: I trusted Justin to make this recipe. The amounts of these seasonings (Our Additions) are estimates... I tried asking him; however, he doesn't remember how much of each he used and exactly what (which, I'll admit, is a little annoying to me)... so I'm totally guessing! They are approximately what I'd use.
**Second Note: From the amount of liquid we saved after pouring out half , I don't think we even need the BBQ sauce (but this is soo good with it too!) This would taste just as fantastic without and could potentially be altered with various seasonings to suit any tastes. My next task is to make this sans sauce and amped spices. We also dumped the skin/fat back in (I heart pork fat!)
This recipe, as is, turned out to be absolute HEAVEN! The pork was melt in your mouth tender and fatty... and... oh God I must have more! Eat your heart out Dinosaur BBQ, I can beat you at your own game!
For anyone who's scared of trying some homemade pulled pork, FEAR NOT! This recipe is easy peasy and delicious.